Mary E. Jensen, MD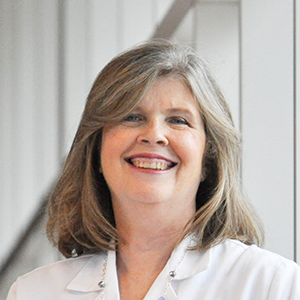 Mary E. Jensen, MD, is Professor Emeritus in the Department of Radiology and Medical Imaging at the University of Virginia (UVA) in Charlottesville, VA.  She retired as a tenured Professor without term in 2021, having started as an Assistant Professor in 1991 and serving as the Director of the Interventional Neuroradiology (INR) section from 1998 to 2019.  She maintains a clinical appointment at UVA.
Dr. Jensen is a recognized leader in Neurointerventional Surgery, and has held several leadership positions in the Society of Neurointerventional Surgery (SNIS) from 2000 to 2016, including as the SNIS President and, later, as the first SNIS Foundation chair.  She has been the SNIS representative to the Brain Attack Coalition (BAC) since 2010, and is the current Chairperson of the FDA Neurological Devices panel.
Dr. Jensen's expertise is in the use of minimally invasive treatments for neurological conditions such as brain aneurysms, embolic stroke, carotid artery disease, vascular head and neck tumors, intracranial vascular stenosis, brain arteriovenous malformations and fistulas, and vascular spinal disorders. In 1994, Dr. Jensen and her partner, Dr. Jacques Dion, performed the first percutaneous vertebroplasty in the US for the treatment of vertebral compression fractures, and went on to develop multiple techniques and tools for vertebral body augmentation.
Dr. Jensen has published over 125 peer-reviewed papers, presented more than 300 scientific papers and invited lectures, participated in multiple clinical trials and has trained numerous fellows who have gone on to practice at some of the top hospitals in the country.
Dr. Jensen is currently the President of Blue Ridge Area Interventional Neuroradiology (BRAIN) where she continues to provide INR services to patients in a private practice setting.